Experimentation has to be data-driven.
So why are businesses still kicking off their experimentation programs without good data? We all know running experiments on gut-feel and instinct is only going to get you so far.
One problem is the ever-growing number of research methods and user-research tools out there. Prioritising what research to conduct is difficult. Especially when you are trying to maximise success with your initial experiments and need to get those experiments out the door quickly to show ROI.
We are no stranger to this problem. And the solution, as ever, is to take a more strategic approach to how we generate our insight. We start every project with what we call the strategic insights phase. This is a structured, repeatable approach to planning user-research we've developed that consistently generates the most actionable insight whilst minimising effort.
This article will provide a step-by-step guide of how we plan our research strategy so that you can replicate something similar yourself. Meaning you can set up your future experiments for greater success.
The start of an experimentation program is crucial. Pressures of getting stakeholders buy-in or achieving quick ROI means the initial experiments are often the most important. A solid foundation of actionable insight from user-research can make a big difference as to how successful your early experiments are.
With hundreds of research tools enabling multiple different research methods, a challenge arises with how we choose which research method will generate the insight that's most impactful and actionable. Formulating a research strategy for how you're going to generate your insight is therefore crucial.
When onboarding new clients, we run an intense research phase for the first month. This allows us to get up to speed on the client's business and customers. More importantly, it provides us with data that allows us to start building our experimentation framework – identifying where our experimentation can make the most impact and what our experimentation should focus on. We find dedicating this time to insights sets our future experiments up for the bigger wins and therefore, a rapid return on investment.
Our approach: Question-led insights
When conducting research to generate insight, we use what we call a question-led approach. Any piece of research we conduct must have the goal of answering a specific question. We identify the questions we need to answer about a client's business and their website and then conduct only the research we need to answer them. Taking this approach allows us to be efficient, gaining impactful and actionable insights that can drive our experimentation program.
Following a question-led approach also means we don't fall into the common pitfalls of user-research:
Conducting research for the sake of it
Wasting time down rabbit holes within our data or analytics
Not getting the actionable insight you need to inform experimentation
There are 5 steps in our question-led approach.
1. Identify what questions you need, or want, to answer about your business, customers or website
The majority of businesses still have questions about their customers they don't have the answers to. Listing these questions can provide a brain-dump for everything you don't know but that if you did know would help you design better experiments. Typically these questions will fall into three main categories; your business, your customers and your website.
Although one size does not fit all with the questions we need to answer, we have provided some of the typical questions that we need to answer for clients in e-commerce or SaaS.
SaaS questions:
What is the current trial-to-purchase conversion rate?
What motivates users on the trial to make a purchase? What prevents users on the trial to make a purchase?
What is the distribution between the different plans on offer?
What emails are they sending users when they are in their trial? What is the life cycle of these emails?
What are the most common questions asked to customer services or via live chat?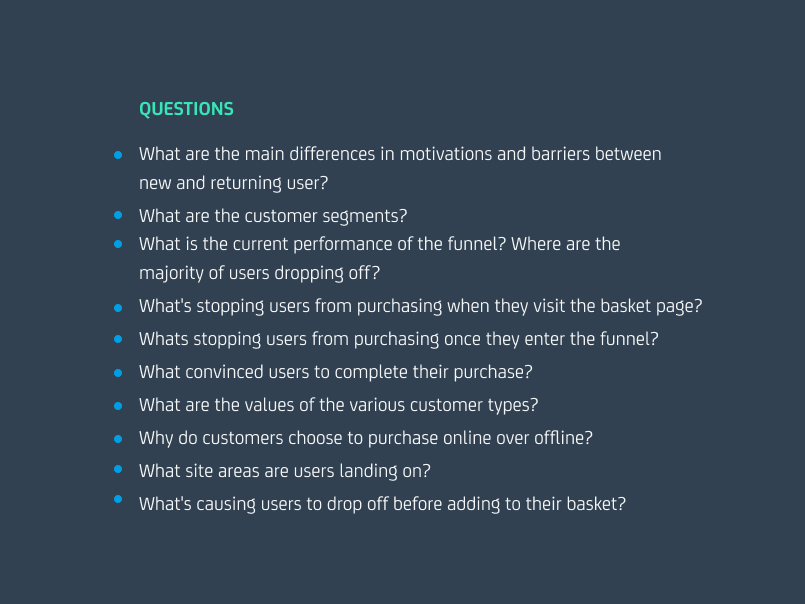 We can quite typically end up with a list of 20-30 questions. So the next step is to prioritize what we need to answer first.
2. Prioritise what questions need answering first
We want our initial experiments to be as data-driven and successful as possible. Therefore, we need to tackle the questions that are likely to bring about the most impactful and actionable insights first.
For example, a question like "What elements in the navigation are users interacting with the most?" might be a 'nice to know'. However, if we don't expect a navigation experiment to be one we would run any time soon, this may not be a 'need to know' and therefore wouldn't be high priority. On the other hand, a question like "What's stopping users from adding products to the basket?" is almost certainly a 'need to know'. Answering this is very likely to generate insight that can be directly turned into an experiment. Rule of thumb is to prioritize the 'need to know' questions ahead of the 'nice to know'.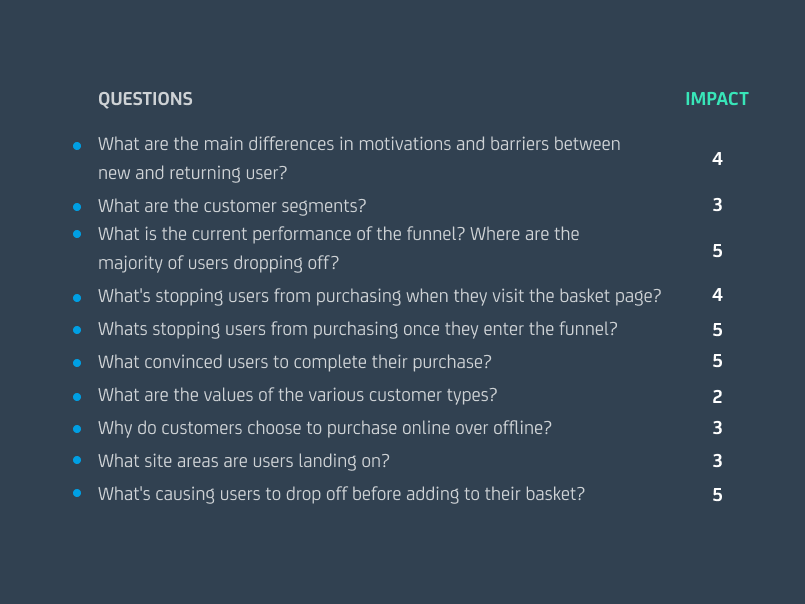 We also need to get the actionable insight quickly. Therefore, it is important to ensure that we prioritize questions that aren't too difficult or time consuming to answer. So, a second ranking of 'ease' can also help to prioritize our list.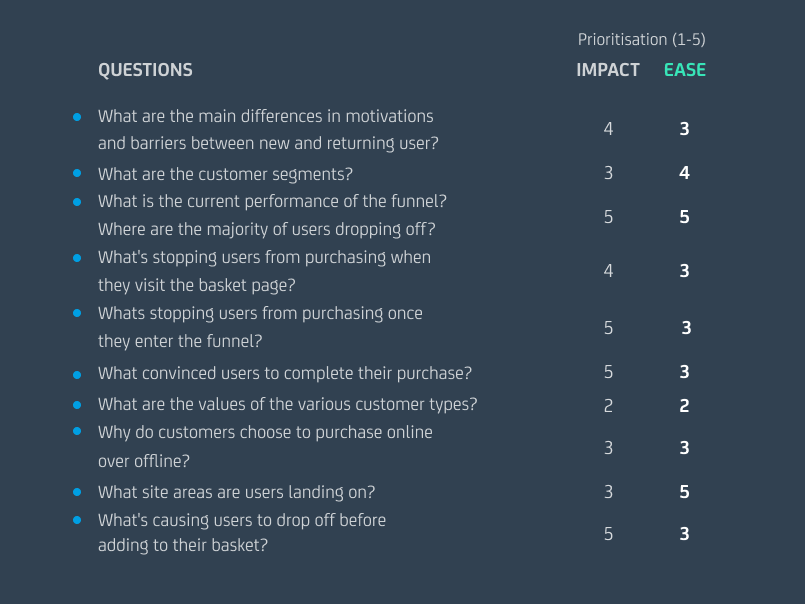 3. Decide the most efficient research techniques to answer these questions
There are many types of research you could use to answer your questions. Typically we find the majority of questions can be answered by one or more of web analytics, on-site or email surveys, usability testing or heatmaps/scrollmaps. There may be more than one way to find your answer.
However, one research method could also answer multiple questions. For example, one round of usability testing might be able to answer multiple questions focused on why a user could be dropping off at various stages of your website. This piece of research would therefore be more impactful, as you are answering multiple questions, and would be more time efficient compared to conducting multiple different types of research.
For each question in our now prioritized list we decide the research method most likely to answer it. If there are multiple options you could rank these by the most likely to get an answer in the shortest time. In some cases we may feel the question was not sufficiently answered by the first research method, so it can be helpful to consider what you would do next in these cases.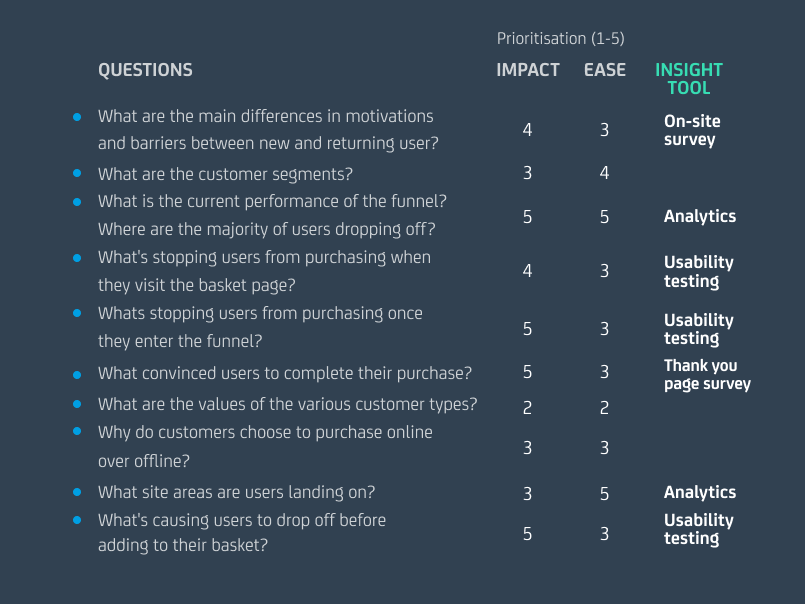 4. Plan the pieces of research you will carry out to cover the most questions
You should no have a list of prioritized questions you want to answer and what research method you would use to answer each. From this you can select the pieces of research you should carry out based on which would give you the best coverage of the most important questions. For example, you might see that 5 of your top 10 questions could be answered through usability testing. Therefore, you should prioritize usability testing in the time you have, and the questions you need to answer can help you to design your set of tasks.
After your first round of research, revisit your list of questions and for each question evaluate whether or not you feel it has been sufficiently answered. Your research may also have generated more questions that should be added to the list. Periodically you might also need to re-answer questions where user behavior has changed due to your experimentation. For example, if initially users were abandoning on your basket page due to a lack of trust, but successful experiments have fixed this, then you may need to re-ask the question to discover new problems on the basket page.
On a regular basis you can then repeat this process again of prioritizing the questions, deciding the best research methods and then planning your next set of research.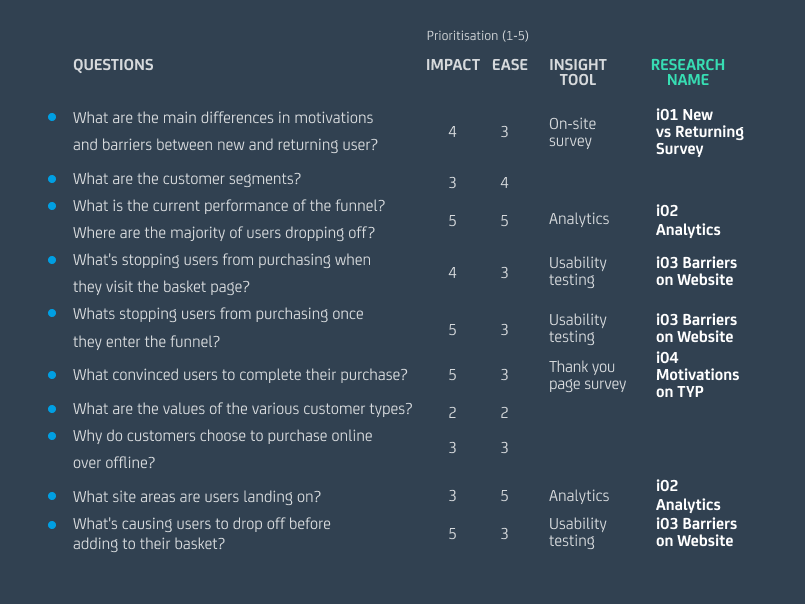 5. Feed these insights into your experimentation strategy
Once your initial research pieces have been conducted and analyzed it is important to compile the insight from them in one place. This has two benefits. The first being the ease in visualising and discovering themes that may be emerging within your data from multiple sources of insight. The second being the benefit that comes from having one source of information that could be shared with others within your business.
As your experimentation program matures it is likely you will be continuously running research in parallel to your experiments. The insight from this research will answer new questions that will naturally arise and can help inform your experimentation.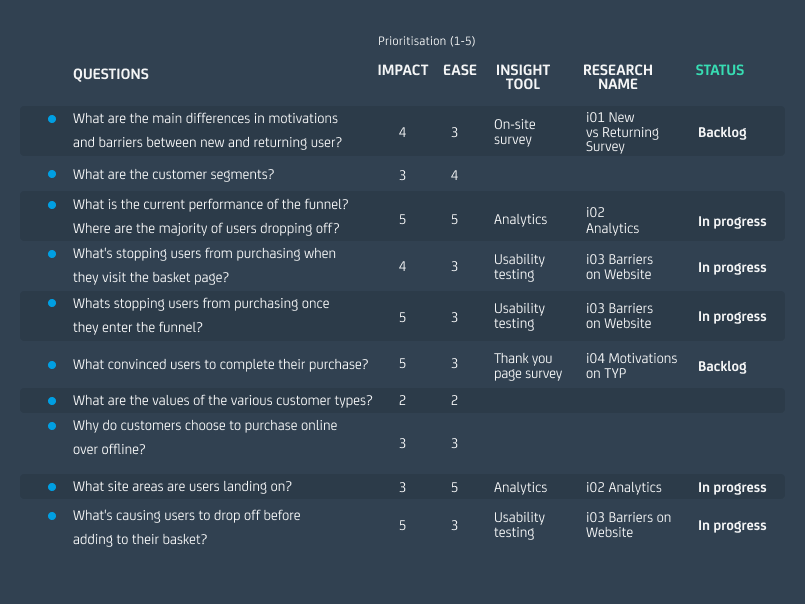 Taking this question-led approach means you can be efficient with the time you spend on research, while still maximising your impact. Following our step-by-step guide will provide a solid foundation that you can work upon within your business:
Identify what questions you need, or want, to answer about your business, customers or website
Prioritise what questions need answering first
Decide the most efficient research techniques to answer these questions
Plan the pieces of research you will carry out to cover the most questions
Feed these insights into your experimentation strategy
For more information on how to kick-start experimentation within your business, get in touch here.