After reading the title of this article, you'd be forgiven for questioning our motives behind writing this piece.
Yes, we're an experimentation agency, and it's most definitely in our interest to persuade you that all of the world's ills can be solved by the miracle of experimentation.
To paraphrase Mandy Rice-Davies, we would say that, wouldn't we?
But for many companies, experimentation can offer a clear, measurable and profitable path through the upcoming economic turbulence.
Weathering the storm
After everything that's happened over the last two or three years, many of the world's leading economic pundits are now predicting a worldwide recession.
For many decision makers, these developments seem to mark a need to cut costs, find efficiencies, and batten down the hatches.
This is unsurprising, really. We humans are often highly risk-averse creatures. When faced with uncertainty – as we are now – damage limitation is our go-to.
But as Nathan Furr, innovation and uncertainty expert, discusses in his recent HBR piece, approached in the right way, with the right mindset and strategy framework, uncertainty can be a gateway through which new possibilities manifest.
Learning how to navigate uncertainty, in other words, is often the difference between dynamic innovation and complete stagnation.
There are three key ways that experimentation can help businesses thrive during the upcoming recession and position themselves optimally for the upturn that follows.
1. Gain an edge on your competition
As has been frequently documented by Stefan Thomke and other innovation experts, experimentation lies at the heart of every business's ability to innovate.
Experimentation doesn't mean needlessly finessing details in the hope of making small incremental improvements.
Instead, think of it as a safety net that allows you to try multiple approaches – from the most vanilla to the most innovative – and see what works and what doesn't.
But as discussed above, during financial downturns, business leaders tend to become preoccupied with improving efficiencies and cutting costs at the expense of all else.
This begs an interesting question:
What would happen if business leaders instead chose to continue innovating – or even to ramp up their innovation effort – while their competitors pinched pennies?
This was exactly what the leadership team at ams AG, a global leader in optical solutions, chose to do. (For more, see Thomke's book Experimentation Works.)
In January 2007, they decided to implement a widespread business experimentation initiative in order to innovate more effectively and gain a technical edge over their competition.
This initiative was already beginning to bear fruit when, in 2008, the financial crisis happened.
It would have been easy for the ams leadership team to follow the same path as their competitors and slash their innovation costs until the downturn showed signs of easing.
Instead, not only did they stay the course – they actually levelled up their experimentation effort.
The outcome?
Innovation went into overdrive.
Experiments run during this period provided the starting points for a huge range of new projects, patents, proposals, and product improvements.
This meant that when the economy finally started to pick up, ams had a strong pipeline of new offerings and were ready to take full advantage of the market upswing. Meanwhile, their competitors were left in their dust.
This example demonstrates the outsized rewards that accrue to those brave enough to maintain an aggressive innovation strategy through uncertain times.
By holding their resolve while their competitors lost theirs, ams were finally able to gain the edge over their competition that they'd been aiming for all along.
2. Get more out of your marketing spend
There's been a lot of talk over the last couple of months about marketing departments having their budgets slashed. The IPA even took out an ad in the UK's Financial Times to attempt to stave off budget cuts: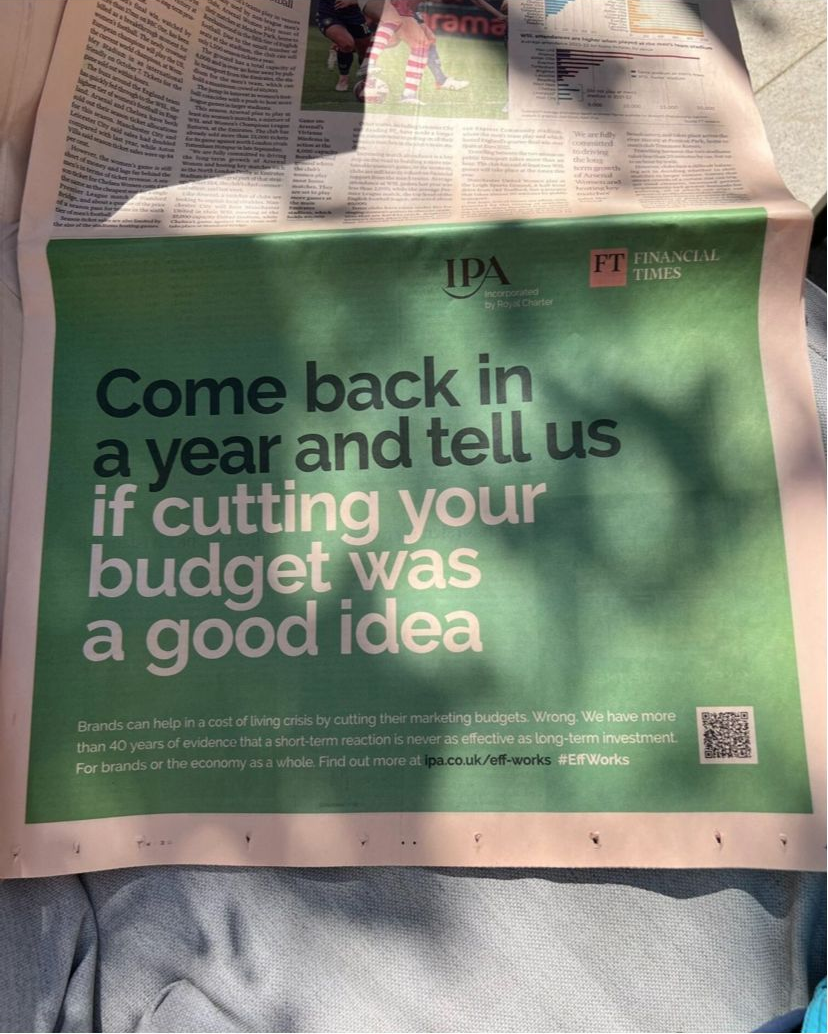 This budget-slashing is understandably causing a lot of frustration amongst marketers, who've been left asking how they're supposed to generate revenue if they don't have the budget to do so.
But what if we were to tell you that it's actually possible to hold your online sales constant while cutting your marketing spend significantly?
In fact, we've helped Wistia, the world's leading video marketing platform for business, double their online sales while cutting their ad spend by 88%.
First, we ran a full-scale conversion rate optimization programme on their funnel.
To oversimplify things:
traffic x conversion rate x average order value = online revenue
By running a high-velocity testing programme on Wistia's website, we were able to significantly increase the conversion rate part of this equation. This allowed Wistia to convert their website traffic into revenue at a much improved rate, giving them the ability to cut their ad spend without reducing their online revenue.
(Incidentally, it also meant that, had they wanted to, they could have increased their ad spend and generated even higher revenue.)
Taken alone, these results were considered a huge success, but we went even further.
We then helped Wistia develop, refine, and experiment on a game-changing new pricing strategy (full case study here) that increased their online revenue by an incredible 46%.
These results are far from out of the ordinary, and they illustrate the immense value that experimentation offers to those who wield it. By improving the efficiency with which your website turns traffic into revenue – as well as by testing bold, paradigm-shifting ideas – experimentation gives you the opportunity to cut costs in other areas of your business while minimizing the decline in your KPIs.
3. Turn uncertainty to your advantage
As frequently discussed by HBR strategy expert Nathan Furr, many of the existing frameworks we use to make our most important decisions are too rigid and slow-reacting to be useful in times of uncertainty – like now.
That's because they were developed during stable times, when behavior was static and predictable.
But in unstable times, when things are constantly changing in unpredictable ways, the need to adapt quickly based on the best available evidence becomes greater than ever.
That's where experimentation comes in.
Experimentation allows you to generate some of the most reliable, up-to-date data you're ever likely to have access to – data that you can use to make better decisions across every area of your business.
To share one application of many: during a recession, consumer behavior – and, by extension, online behavior – tends to change in unforeseeable ways.
This might mean that the messaging and imagery on your website that was once highly effective stops appealing to your core users. Likewise, it might mean that messaging and imagery that was once unappealing becomes highly effective.
For example, it's clear that people may be more price sensitive. But this extends far beyond the price of the product you're selling. What would it cost customers to use the product? Can they return it from their home rather than having to drive?
This may all sound very hypothetical, but we've actually seen this exact thing happen recently:
Many websites that were well-optimized before the COVID-19 pandemic saw a big dip in performance soon after the first lockdowns were announced.
These performance dips didn't go away with time – in many cases, the pandemic completely changed the way consumers were behaving online.
What's more, in an attempt to diagnose these performance issues, many of these optimization teams opted to re-run past winning experiments. What they found was that many experiments that had been strong winners in 2019 had become losers in 2020.
This illustrates the effect that changes in economic, social and environmental conditions can have on online behavior – and it highlights the real need for constant adaptation.
Experimentation allows you to evaluate your existing website with scientific precision to work out what's working and what's not. It gives you the means to zero in on new strategies that are going to generate better results.
But unfortunately – or, fortunately, depending on how you see things – if you're not running experiments, then none of this is possible.
In fact, you may well spend the entire recession blaming your lack of sales on the fickleness of the market, when in reality, the biggest obstacle standing in your way is a poorly optimized website!
Final thoughts
Like anything, business experimentation comes at a cost, whether that be in the form of an in-house experimentation team or a CRO agency like Conversion.
We want to emphasize here that, unlike other growth channels, the versatility of experimentation means that it offers as much value during a market downturn – arguably even more – as it does during a boom.
In our view, investing in experimentation now doesn't pose half the risk that not investing in it does.